ElevateHR Payroll
Management System
A Cloud-Based Payroll System Designed with African
Business Owners in Mind. Automate your payroll today!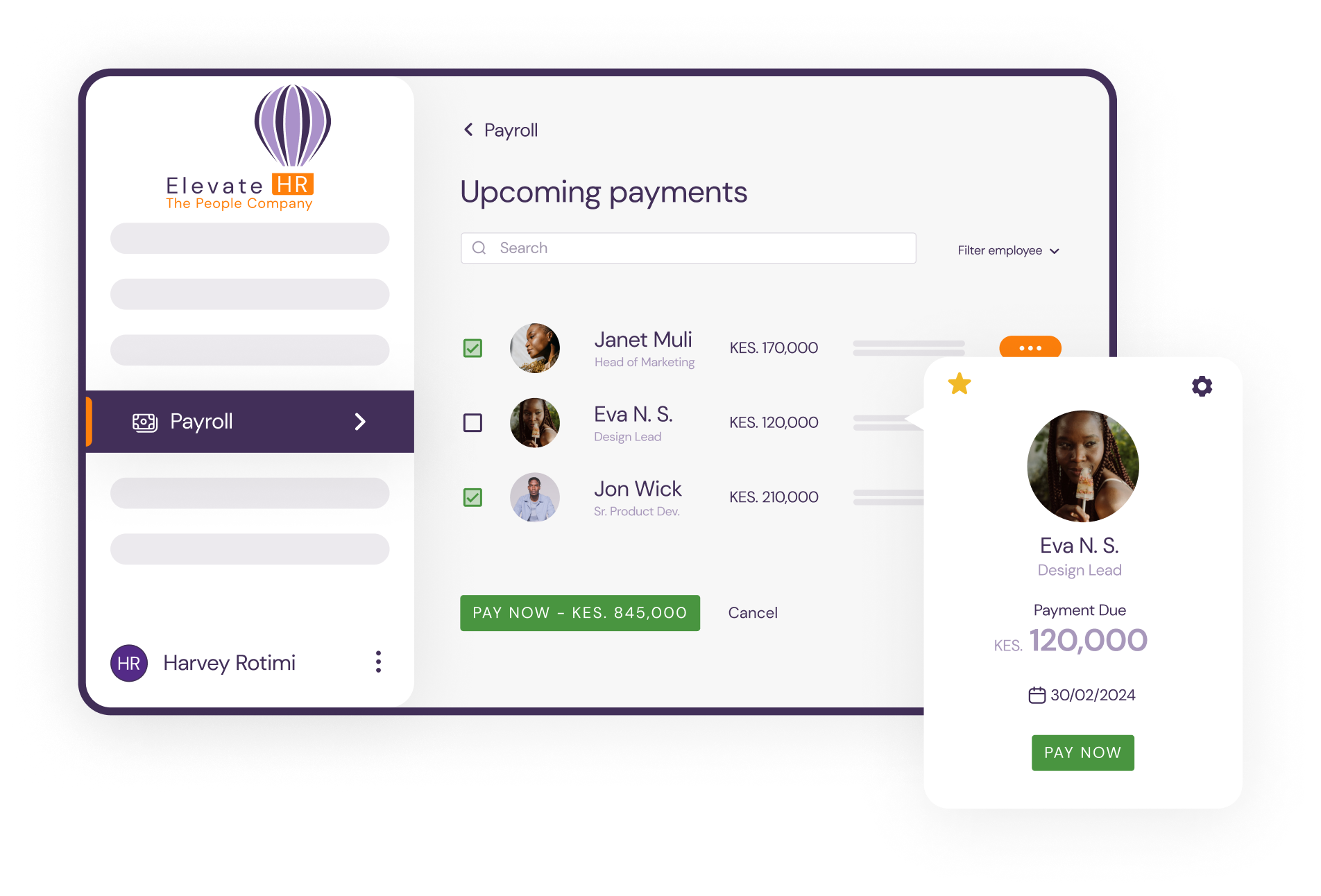 A huge relief to your payroll processing!
ElevateHR is cloud-based payroll software that provides interactive payroll management and reporting solutions to companies in Kenya and across Africa.
Rapidly calculate and process payroll
Automate tax calculations
Manage and store employee records
Unlimited number of employees' payroll processing capability
Auto-host data via cloud technology, with access from anywhere!
Flexible solution that you can scale up as your business expands
Access a low-cost HR solution
Automate your payroll
Manage multiple payroll accounts
ElevateHR software allows you to manage multiple payroll accounts, with separate accounts for your casual and regular employees, different branches and locations, or multiple companies all on one platform.
Manage statutory deductions organisation
All statutory deductions (PAYE, NSSF, and NHIF) have been pre calculated using the current formulas as per government requirements
Generate statutory reports
Save time by automatically generating statutory reports in their correct format, including PAYE, NHIF, NSSF, and KRA returns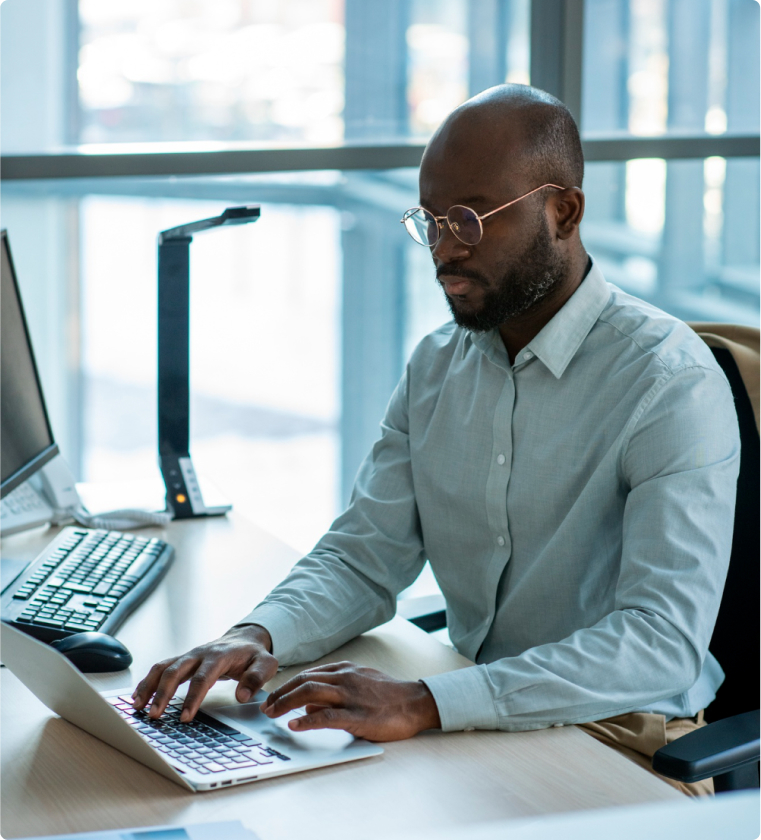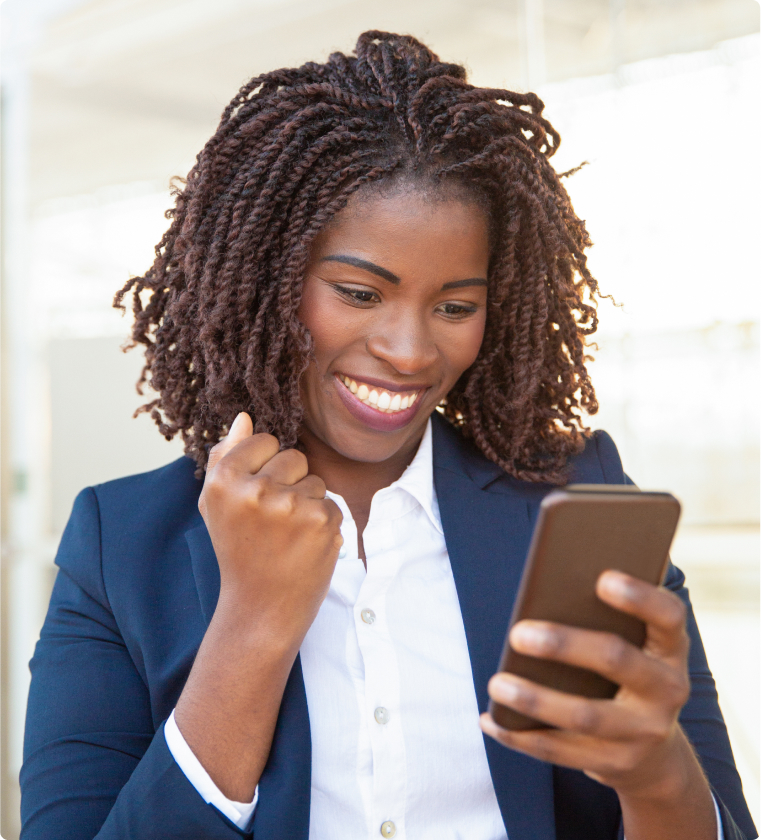 Elevate your employees' payroll experience
Pay your employees on time
Get the flexibility to run payroll from anywhere, at any time; manage records on a clear, user-friendly dashboard, make edits any time you choose, all in one place
Manage allowances & benefits
Manage employee allowances and benefits easily as per P10, including special incentives that are specific to your team, such as a sacco or welfare fund.
Automatically factor in salary advances
ElevateHR will automatically factor in salary advances, giving you one less step to worry about when running payroll.
Multiple payment modes
Pay employees via cash, direct deposit, or mobile money. All bank information is pre populated for you according to the Central Bank of Kenya
Send Payslips in Bulk
Automatically process and send payslips to multiple employees at the same time
Keep your payroll data organized
In-built payroll review and approval mechanism
Ensure that all payroll procedures are adhered to according to your internal payroll approval process.
Record keeping
Manage and maintain employee records within the ElevateHR cloud-based payroll software without worrying about local servers or hardware upgrades
Safe and Secure
We are consistently putting in place a safe and secure computer system infrastructure to ensure that your data is safe, secure, and protected from any form of cyber attack or intrusion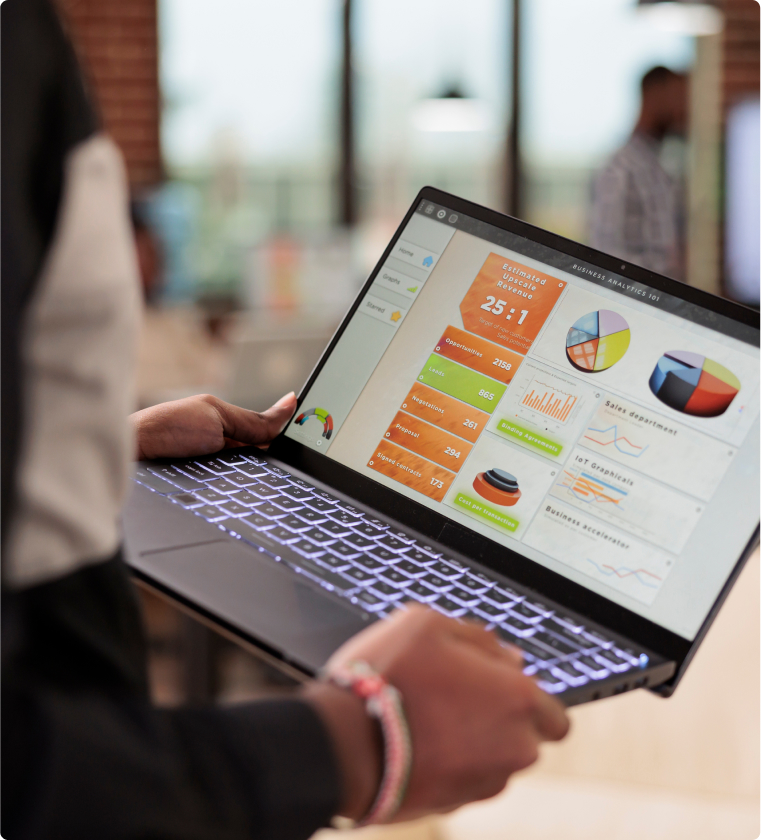 Testimonial
Meet Cleophas Sila, Accountant at Steers and Debonnairs at Greenspan, who is effortlessly managing payroll with ElevateHR. Best part is he does so in less than 30 minutes!
He can now issue payslips to his staff and manage statutory deductions easily ensuring timely processing of employee salaries, benefits, and improved compliance.
If you're a HR or Accountant looking for a reliable payroll solution, request a demo of ElevateHR's system today.
Cleophas Sila
Accountant, Steers and Debonnairs, (Greenspan)
We make payroll processing simple, easy and affordable
FAQs
To get started, you will need to source a payroll software that is up to date with tax laws. ElevateHR is an excellent choice for businesses in Kenya. You can also use ElevateHR Payroll Outsourcing service.

If not outsourcing; using the ElevateHR payroll system, prepare all your employee details and check employee records to ensure they are correct, up-to-date and accurate. Take note of the payroll data check for allowances, deductions, and hours worked.

Choose a payroll schedule—there are different schedules a business can choose for running their payrolls, including daily, weekly, semi-weekly, and monthly.

Indicate the payment method for each employee, either cash or bank transfer. Employees can also receive payments via mobile money if the employer has an M-Pesa account set up at their bank.

Employees should receive payslips at the end of each pay period so they can keep track of all income earned and all other deductions.
If you're running a payroll in Kenya, the answer is yes. Payroll software can help you avoid crucial mistakes

A payroll software allows you to manage statutory deductions (PAYE, NHIF, NSSF) and tax filings in one place. With ElevateHr, you can easily manage employee data, create reports, calculate taxes owed to the government, and pay workers on time.
The most common payroll risks are:
Not understanding or keeping up with the latest tax regulations and requirements
Not handling employee deductions correctly
Not allocating employee allowances and benefits correctly
Not maintaining employee records and files correctly
To set up payroll for your small business in Kenya, you need to:
Have a registered business, either as a Sole Proprietor, Partnership or Company with the Registrar of companies
Register as a taxpayer with the Kenya Revenue Authority (KRA)
Employers are required to remit Pay As You Earn (PAYE) tax with Kenya Revenue Authority (KRA) by the 9th of the following month. The lowest tax bracket in Kenya is taxed at 10% while the highest is 30%.
The minimum taxable income is Kenya shillings 12,298, with the lowest tax bracket being taxed at 10% and the highest bracket taxed at 30%.
Make sure your Business License is issued by the local council authorities in the County in which you are operating.
As an employer, you must register with the National Social Security Fund (NSSF) to pay into your employees' retirement fund.
Both employees and employers contribute Kenya shillings 200 to the National Social Security Fund (NSSF) by the 15th of the month following a worker's payday.
In Kenya, employers must obtain and maintain an insurance policy with an insurer approved by the government in respect of any liability they may incur under the Work Injury Benefits Act to their employees.
Acquire an affordable payroll system such as ElevateHr to automate your payroll.
Yes, you can do payroll yourself.
It's easy to do payroll yourself if you have the right information about how to do it.
A payroll software should make your life easier when it comes to payroll in terms of time, money and accuracy.
ElevateHR provides you with a user friendly payroll system that has pre calculated formulas to ensure statutory compliance
Request Trial
session now to get started!